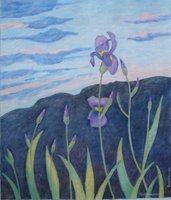 Artist Boel Wanjeskog
Boel Wanjeskog is a Swedish artist working on a number of projects including; as a decorative painter of buildings, restoration work in churches, and as a book illustrator.
She has had exhibitions in Sweden and abroad and in recent years has exhibited in Italy in Perugia (Umbria) and Polinago (Emilia Romagna), both of which she has visited for extended periods making new and interesting contacts.
Boel is a member of several art organizations and has been actively working to improve conditions for artists via KRO, The Swedish Artists' National Organization. She is also a member of the IAA International Association of Art.